Basic Price
elbRuecken's basic price is €1.- per minute.
Private
I would be happy to visit you at your home. A massage in your own four walls is possible at any time. The duration of the massage must be at least 45min.
Events
The price for events varies according to their complexity. Just contact me and we can discuss the details. This makes your event truly unforgettable.
Firmen- / Office Massage
I would also be happy to visit you at your office. I will come around for an office massage of at least 60min. Just ask your colleagues – you will be surprised by how many of them wish to let themselves be pampered by a relaxing massage.
Dates:
elbRuecken is available to you at all times. I do not have normal office hours and comply with your needs, i.e. I will be at your disposal 7 days per week and nearly all around the clock. Just contact me and we will find a convenient date.
---
---
The massage voucher is back!!
Massage inner Buddel
elbRuecken s massage voucher, better known as:
"Massage in a Bottel"

Florian - elbRücken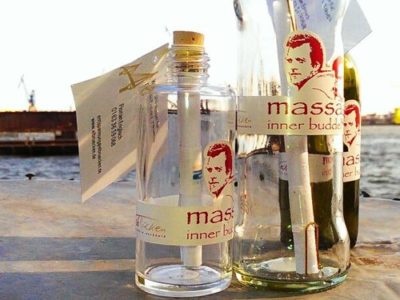 You also have the option to order a voucher for a soothing massage. Whether for yourself, as a gift for your loved ones, your colleagues at work, your boss, or a good friend – no matter who it is destined for, relaxation will be on its way via a "Massage in a Bottle".
Just tell / write me for how long I may provide relaxation (from 45min) and I will be on my way to deliver the voucher.
See you soon & relaxed regards,
Your FLo from elbRuecken